Home Automation Ideas That Make Life Easier
Today I want to make your life easier by introducing you to some of the best home automation ideas for a simple life. We all live a hectic lifestyle, so any way we can make it easier is always welcomed.
If you're looking to make your life easier with home automation, then stick around. I've got all the devices you need in your life.
Home Automation Ideas
Several home automation ideas can help you in the garden, home, or add extra home security. Below I'm going to list some top ideas to get you going in your home automation journey: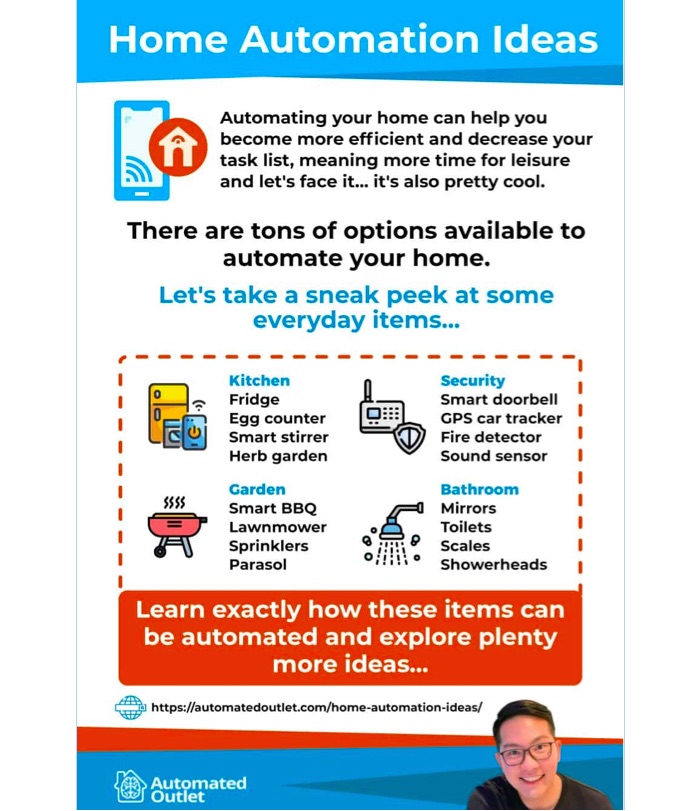 Automated Lawn Mower
There's nothing worse than waiting for the weekend to come round and having to mow the lawn. A smart lawn mower takes away this weekly task and automates it for you. The robot mower cuts the grass to your desired length, and best of all, it works on your schedule.
Smart Robotic Hoover
Vacuuming is another task that no one likes to do, so why not get a robot to do it for you? Robotic vacuums can be controlled via your mobile phone. You can set schedules for the hoover so you can come back to a clean home without lifting a finger.
Automated Pool Cleaner
Cleaning your swimming pool doesn't just take a long time; it's hard work too. However, if you don't do it yourself, it can get pretty expensive. Automated pool cleaners scrub and suck all the grime off the bottom of the pool so you don't have to.
Automated Sprinkler System
Having a lush green garden is the dream for anyone's home. Unfortunately, keeping your plants/grass green takes a lot of work and regular watering. Smart sprinklers water your plants to a schedule; best of all, they are smart enough to know if it's rained, so you don't overwater.
Grocery Ordering
When you have a house full of people, you never know when something has run out until it's too late. And this is where a grocery ordering system comes in. Before something gets chucked away, scan the barcode and get it automatically ordered.
Smart Mirror
Smart mirrors help you get things going in the morning; they can tell what the weather is like outside and show you your daily schedule. You can even get them with Alexa built-in and automated defogging, so they never steam up.
Smart Sockets
These are great entry-level devices for automating your home. They turn your dumb devices into intelligent devices. The sockets link to WiFi and can be turned on and off remotely using Alexa or your mobile phone.
Smart Light Switches
There's nothing worse than forgetting to turn your lights off; with smart light switches, you never have to worry again. All you have to do is check your phone and turn them off with the mobile app.
Smart Thermostats
Out of all the home automation ideas on this list, nothing will save you more money than this. They help you save money on your energy bills by intelligently heating and cooling your home. In a couple of years, the devices will have paid for themselves.
Intelligent Faucets
After a hard day at work, there's nothing better than relaxing in a nice hot bath. But running the water takes time and attention. Smart faucets can be controlled using a mobile app; best of all, you can choose the temperature and how full you want the bath.
Automated Garage Door
Opening your garage door doesn't have to be challenging anymore. With an automated garage door opener, you just need to press a button. You can also get them tricked out with geofencing, so the door opens as you enter your driveway.
Robot Window Washer
Washing your windows is a skill that some people don't have, and for those people, I would recommend a robotic window washer. It's a simple case of sticking the unit to your window and letting it do the hard work.
Smart Curtains
It's been proven that waking up to daylight gives you a better start to the day by waking up more naturally. But it also gives you the chance to become a little bit lazier; it just takes a touch of a button to close the curtains ready for bed.
Smart Fire Alarms
Suppose a fire happens while you're away from your house; there's no way of knowing until it's too late. Smart fire alarms give you a fighting chance of saving your home. If a fire is detected, it will trigger an alert directly to your phone.
Smart Locks
When you get home with your weekly shopping, it can be a nightmare fumbling around for your keys. Smart locks can use Bluetooth technology to lock and unlock your door without using your hands.
Smart Security Cameras
Smart security cameras link directly to your WiFi, which means you can view the footage from anywhere in the world. The best smart cameras come with a motion detector built-in, which sends you a notification to your phone and starts recording.
Smart Doorbell
Smart doorbells are the ultimate device for the couch potato. When someone comes to the door, you can cast the image to the TV and have a conversation with the person. You can even link them to your smart lock to let people in, all without moving a muscle.
Outdoor Smart Lights
When it gets dark outside, it becomes tough to see where you're going. Adding outdoor lights is the obvious solution. But smart lights allow you to control them with an app or have them set up to motion sensors.
Round-Up
That's just a few home automation ideas you can use to make your life easier. Finding the right devices is all about solving a problem that's bothering you.
Hopefully, this inspires you to take a step into the world of home automation. Let us know in the comments which home automation devices you couldn't live without.
The post Home Automation Ideas That Make Life Easier appeared first on Home Business Magazine.


Sahred From Source link Business