Pervez Musharraf: Death sentence for former Pakistan President overturned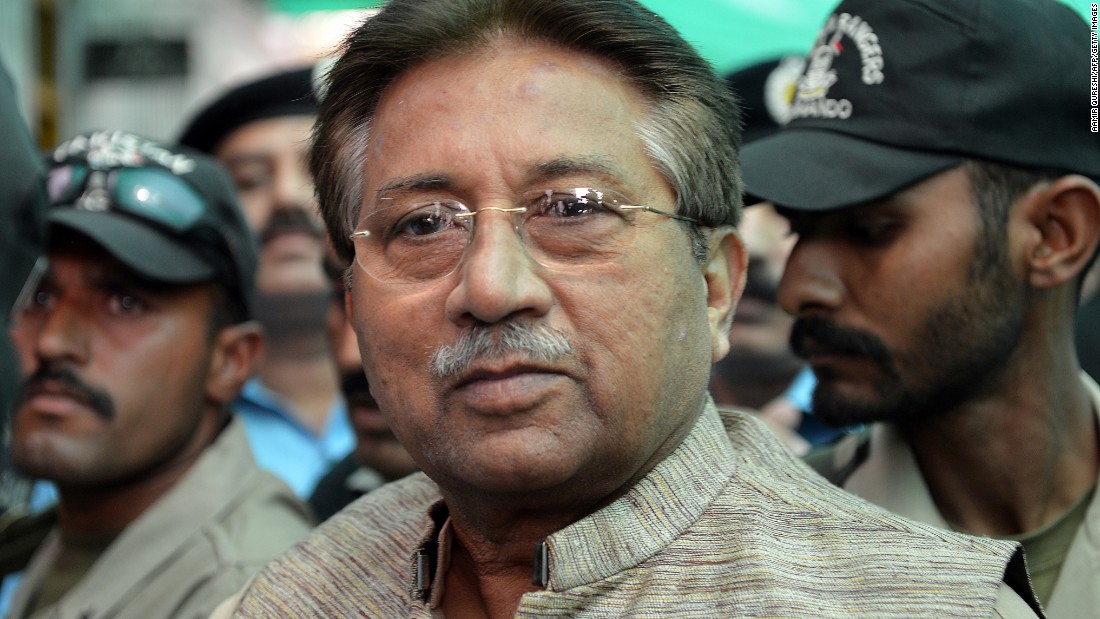 It said the formation of the special court which passed the original death sentence was "illegal" — meaning Musharraf is no longer a suspect.
Musharraf seized power in a military coup in 1999, and ruled Pakistan as its President between 2001 and 2008.
In 2007, he declared a state of emergency, suspended Pakistan's constitution, replaced the chief judge and blacked out independent TV outlets.
Musharraf said he did so to stabilize the country and to fight rising Islamist extremism. The action drew sharp criticism from the United States and democracy advocates. Pakistanis openly called for his removal.
Under pressure from the West, Musharraf later lifted the state of emergency and called elections in which his party fared badly.
He stepped down in August 2008 after the governing coalition began taking steps to impeach him.
');$vidEndSlate.removeClass('video__end-slate–inactive').addClass('video__end-slate–active');}};CNN.autoPlayVideoExist = (CNN.autoPlayVideoExist === true) ? true : false;var configObj = {thumb: 'none',video: 'world/2019/12/17/pakistan-pervez-musharraf-death-sentence-sot-vpx.cnn',width: '100%',height: '100%',section: 'domestic',profile: 'expansion',network: 'cnn',markupId: 'body-text_19',theoplayer: {allowNativeFullscreen: true},adsection: 'const-article-inpage',frameWidth: '100%',frameHeight: '100%',posterImageOverride: {"mini":{"width":220,"type":"jpg","uri":"//cdn.cnn.com/cnnnext/dam/assets/191217034228-pervez-musharraf-2013-file-small-169.jpg","height":124},"xsmall":{"width":307,"type":"jpg","uri":"//cdn.cnn.com/cnnnext/dam/assets/191217034228-pervez-musharraf-2013-file-medium-plus-169.jpg","height":173},"small":{"width":460,"type":"jpg","uri":"//cdn.cnn.com/cnnnext/dam/assets/191217034228-pervez-musharraf-2013-file-large-169.jpg","height":259},"medium":{"width":780,"type":"jpg","uri":"//cdn.cnn.com/cnnnext/dam/assets/191217034228-pervez-musharraf-2013-file-exlarge-169.jpg","height":438},"large":{"width":1100,"type":"jpg","uri":"//cdn.cnn.com/cnnnext/dam/assets/191217034228-pervez-musharraf-2013-file-super-169.jpg","height":619},"full16x9″:{"width":1600,"type":"jpg","uri":"//cdn.cnn.com/cnnnext/dam/assets/191217034228-pervez-musharraf-2013-file-full-169.jpg","height":900},"mini1x1″:{"width":120,"type":"jpg","uri":"//cdn.cnn.com/cnnnext/dam/assets/191217034228-pervez-musharraf-2013-file-small-11.jpg","height":120}}},autoStartVideo = false,isVideoReplayClicked = false,callbackObj,containerEl,currentVideoCollection = [],currentVideoCollectionId = ",isLivePlayer = false,mediaMetadataCallbacks,mobilePinnedView = null,moveToNextTimeout,mutePlayerEnabled = false,nextVideoId = ",nextVideoUrl = ",turnOnFlashMessaging = false,videoPinner,videoEndSlateImpl;if (CNN.autoPlayVideoExist === false) {autoStartVideo = false;if (autoStartVideo === true) {if (turnOnFlashMessaging === true) {autoStartVideo = false;containerEl = jQuery(document.getElementById(configObj.markupId));CNN.VideoPlayer.showFlashSlate(containerEl);} else {CNN.autoPlayVideoExist = true;}}}configObj.autostart = CNN.Features.enableAutoplayBlock ? false : autoStartVideo;CNN.VideoPlayer.setPlayerProperties(configObj.markupId, autoStartVideo, isLivePlayer, isVideoReplayClicked, mutePlayerEnabled);CNN.VideoPlayer.setFirstVideoInCollection(currentVideoCollection, configObj.markupId);videoEndSlateImpl = new CNN.VideoEndSlate('body-text_19');function findNextVideo(currentVideoId) {var i,vidObj;if (currentVideoId && jQuery.isArray(currentVideoCollection) && currentVideoCollection.length > 0) {for (i = 0; i 0) {videoEndSlateImpl.showEndSlateForContainer();if (mobilePinnedView) {mobilePinnedView.disable();}}}}callbackObj = {onPlayerReady: function (containerId) {var playerInstance,containerClassId = '#' + containerId;CNN.VideoPlayer.handleInitialExpandableVideoState(containerId);CNN.VideoPlayer.handleAdOnCVPVisibilityChange(containerId, CNN.pageVis.isDocumentVisible());if (CNN.Features.enableMobileWebFloatingPlayer &&Modernizr &&(Modernizr.phone || Modernizr.mobile || Modernizr.tablet) &&CNN.VideoPlayer.getLibraryName(containerId) === 'fave' &&jQuery(containerClassId).parents('.js-pg-rail-tall__head').length > 0 &&CNN.contentModel.pageType === 'article') {playerInstance = FAVE.player.getInstance(containerId);mobilePinnedView = new CNN.MobilePinnedView({element: jQuery(containerClassId),enabled: false,transition: CNN.MobileWebFloatingPlayer.transition,onPin: function () {playerInstance.hideUI();},onUnpin: function () {playerInstance.showUI();},onPlayerClick: function () {if (mobilePinnedView) {playerInstance.enterFullscreen();playerInstance.showUI();}},onDismiss: function() {CNN.Videx.mobile.pinnedPlayer.disable();playerInstance.pause();}});/* Storing pinned view on CNN.Videx.mobile.pinnedPlayer So that all players can see the single pinned player */CNN.Videx = CNN.Videx || {};CNN.Videx.mobile = CNN.Videx.mobile || {};CNN.Videx.mobile.pinnedPlayer = mobilePinnedView;}if (Modernizr && !Modernizr.phone && !Modernizr.mobile && !Modernizr.tablet) {if (jQuery(containerClassId).parents('.js-pg-rail-tall__head').length) {videoPinner = new CNN.VideoPinner(containerClassId);videoPinner.init();} else {CNN.VideoPlayer.hideThumbnail(containerId);}}},onContentEntryLoad: function(containerId, playerId, contentid, isQueue) {CNN.VideoPlayer.showSpinner(containerId);},onContentPause: function (containerId, playerId, videoId, paused) {if (mobilePinnedView) {CNN.VideoPlayer.handleMobilePinnedPlayerStates(containerId, paused);}},onContentMetadata: function (containerId, playerId, metadata, contentId, duration, width, height) {var endSlateLen = jQuery(document.getElementById(containerId)).parent().find('.js-video__end-slate').eq(0).length;CNN.VideoSourceUtils.updateSource(containerId, metadata);if (endSlateLen > 0) {videoEndSlateImpl.fetchAndShowRecommendedVideos(metadata);}},onAdPlay: function (containerId, cvpId, token, mode, id, duration, blockId, adType) {/* Dismissing the pinnedPlayer if another video players plays an Ad */CNN.VideoPlayer.dismissMobilePinnedPlayer(containerId);clearTimeout(moveToNextTimeout);CNN.VideoPlayer.hideSpinner(containerId);if (Modernizr && !Modernizr.phone && !Modernizr.mobile && !Modernizr.tablet) {if (typeof videoPinner !== 'undefined' && videoPinner !== null) {videoPinner.setIsPlaying(true);videoPinner.animateDown();}}},onAdPause: function (containerId, playerId, token, mode, id, duration, blockId, adType, instance, isAdPause) {if (mobilePinnedView) {CNN.VideoPlayer.handleMobilePinnedPlayerStates(containerId, isAdPause);}},onTrackingFullscreen: function (containerId, PlayerId, dataObj) {CNN.VideoPlayer.handleFullscreenChange(containerId, dataObj);if (mobilePinnedView &&typeof dataObj === 'object' &&FAVE.Utils.os === 'iOS' && !dataObj.fullscreen) {jQuery(document).scrollTop(mobilePinnedView.getScrollPosition());playerInstance.hideUI();}},onContentPlay: function (containerId, cvpId, event) {var playerInstance,prevVideoId;if (CNN.companion && typeof CNN.companion.updateCompanionLayout === 'function') {CNN.companion.updateCompanionLayout('restoreEpicAds');}clearTimeout(moveToNextTimeout);CNN.VideoPlayer.hideSpinner(containerId);if (Modernizr && !Modernizr.phone && !Modernizr.mobile && !Modernizr.tablet) {if (typeof videoPinner !== 'undefined' && videoPinner !== null) {videoPinner.setIsPlaying(true);videoPinner.animateDown();}}},onContentReplayRequest: function (containerId, cvpId, contentId) {if (Modernizr && !Modernizr.phone && !Modernizr.mobile && !Modernizr.tablet) {if (typeof videoPinner !== 'undefined' && videoPinner !== null) {videoPinner.setIsPlaying(true);var $endSlate = jQuery(document.getElementById(containerId)).parent().find('.js-video__end-slate').eq(0);if ($endSlate.length > 0) {$endSlate.removeClass('video__end-slate–active').addClass('video__end-slate–inactive');}}}},onContentBegin: function (containerId, cvpId, contentId) {if (mobilePinnedView) {mobilePinnedView.enable();}/* Dismissing the pinnedPlayer if another video players plays a video. */CNN.VideoPlayer.dismissMobilePinnedPlayer(containerId);CNN.VideoPlayer.mutePlayer(containerId);if (CNN.companion && typeof CNN.companion.updateCompanionLayout === 'function') {CNN.companion.updateCompanionLayout('removeEpicAds');}CNN.VideoPlayer.hideSpinner(containerId);clearTimeout(moveToNextTimeout);CNN.VideoSourceUtils.clearSource(containerId);jQuery(document).triggerVideoContentStarted();},onContentComplete: function (containerId, cvpId, contentId) {if (CNN.companion && typeof CNN.companion.updateCompanionLayout === 'function') {CNN.companion.updateCompanionLayout('restoreFreewheel');}navigateToNextVideo(contentId, containerId);},onContentEnd: function (containerId, cvpId, contentId) {if (Modernizr && !Modernizr.phone && !Modernizr.mobile && !Modernizr.tablet) {if (typeof videoPinner !== 'undefined' && videoPinner !== null) {videoPinner.setIsPlaying(false);}}},onCVPVisibilityChange: function (containerId, cvpId, visible) {CNN.VideoPlayer.handleAdOnCVPVisibilityChange(containerId, visible);}};if (typeof configObj.context !== 'string' || configObj.context.length 0) {configObj.adsection = window.ssid;}CNN.autoPlayVideoExist = (CNN.autoPlayVideoExist === true) ? true : false;CNN.VideoPlayer.getLibrary(configObj, callbackObj, isLivePlayer);});CNN.INJECTOR.scriptComplete('videodemanddust');


Sahred From Source link World News