Twitter Users Salute Adam Schiff's 'Moving' Closing Argument In Trump Trial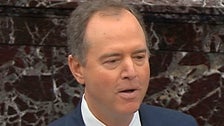 Rep. Adam Schiff (D-Calif.) urged senators to "give America a fair trial" in his final argument in the GOP-controlled Senate impeachment trial of President Donald Trump over his Ukraine misconduct on Friday.
"I implore you," said the lead House impeachment manager in comments that immediately trended on Twitter.
"She's worth it," Schiff added.
Check out the video here:
All over the world, those living under oppressive regimes look to us.

They look to us because we have a rule of law. Because in America, no one is above that law.

To my Senate colleagues, I implore you:

Give America a fair trial.

She's worth it. pic.twitter.com/FoPdno5Qy4

— Adam Schiff (@RepAdamSchiff) January 25, 2020
Schiff also claimed the charges against Trump (abuse of power and obstruction of Congress) "has been proved" and urged GOP lawmakers to show "moral courage" while considering whether to remove Trump from office.
Schiff's supporters described his speech as "eloquent," "powerful," "historical," "moving" and "pitch-perfect." MSNBC host Lawrence O'Donnell described Schiff as "so far the greatest defender of the Constitution in the 21st century."
The hashtags #AdamSchiffHasMyRespect and #AdamSchiffROCKS also went viral on Twitter. Schiff was similarly hailed for explaining why "truth matters" during Thursday's trial proceedings.
I was fighting back tears, what a beautiful passion you clearly have for our country. The case was presented clearly and helped me realize how important character, ethics and decency are in our elected officials. You changed alot of lives this week, for the better. Hats off. 🙂

— Katie Rost (@KatieRost) January 25, 2020
Thank God I was alive to hear Adam Schiff speak these past few days.

— Jennifer Rubin (@JRubinBlogger) January 25, 2020
Thank you, @RepAdamSchiff, for rising to this moment with your pitch-perfect performance, and making us proud to be American.

You did America PROUD.#shesworthit

— BrooklynDad_Defiant! (@mmpadellan) January 25, 2020
One of the best decisions Speaker Pelosi made was to put Adam Schiff in charge of the impeachment trial.

Substantive, brilliant, unflappable.

He's been our Luke Skywalker against the Trumpian Death Star.

No matter what happens, he's a patriot.#AdamSchiffHasMyRespect pic.twitter.com/uVjGsc2LIH

— Russell Drew (@RussOnPolitics) January 25, 2020
Phenomenal defense of the Republic.

Brilliant from start to finish.

We will always be in your debt.

You will be remembered in history.

Thank you.

And thank you to every single one of your staff.

— Reader Adrift (@ReaderAdrift) January 25, 2020
If you watched @RepAdamSchiff close you watched a marvelous presentation that should make you proud of your country & your Congress.A thoughtful speech about justice and American exceptionalism.Will any of the Republicans rise to the occasion.#SchiffShow #AdamSchiffHasMyRespect

— Steve Cohen (@RepCohen) January 25, 2020


Sahred From Source link World News